About Servicios Latinos
History | Recognitions & Awards | Board of Trustees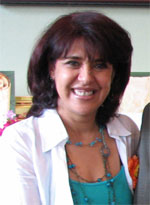 Angela Mateo Gonzalez
Servicios Latinos Founder
Servicios Latinos of Burlington County provides social services to the Hispanic community. Burlington County has approximately 27,782 Hispanic residents. Approximately 1/3 reside in Greater Mount Holly (Mt. Holly, Westampton, Lumberton and Eastampton). We assist our clients with any needs they may have, which may include help in paying bills, taxes, assistance with interpreting letters they receive, seeking employment, seeking housing, and any kind of translation or interpreting assistance they may need. We also provide ESL classes, health, immigration services, etc. The agency provides assistance in educating the Hispanic community in Burlington County about the area in which they live. We also try to bring the Hispanics in the community together with the other residents to bridge the gap between the English and Spanish speaking citizens in the community.

Servicios Latinos hosts a number of events throughout the year including an annual Health Fair (which was the first Hispanic Health Fair in Burlington County), Hispanic Heritage Concert, Christmas Toy Drive and Children's Party( Three Kings Celebration), Thanksgiving turkey distribution for needy families, Immigration workshops and the Mt. Holly Gardens Clean-up Day.


Our Mission

The mission of the agency is to advance the Hispanic population of Burlington County by providing individual clients with assistance in translation and in the securing education, employment, housing, transportation, health and other related services.
As Burlington County's Spanish-speaking population increased, established Hispanic residents recognized that new residents needed help to penetrate linguistic, cultural and social barriers to access available services and achieve their highest potential. Servicios Latinos is accomplishing its mission by identifying the specific needs of Hispanic individuals and families and responding to those needs with flexibility and strength.